President Donald Trump of the United States has offered to donate ventilators to assist Nigeria in her attempts to win the war against the COVID-19 pandemic in the country. Trump makes this promise during the calls to President Buhari. A ventilator is a piece of medical equipment that takes over the body's breathing process when the disease has caused the lungs to fail. Alhaji Lai Mohammed, the Minister of Information and Culture, disclosed this on Tuesday in Abuja at the 21st joint national briefing of the Presidential Task Force (PTF) on COVID-19.
READ ALSO: NLC Warns Buhari Against Extending Lockdown Beyond April 27th
It is the first time the United States is offering assistance to Nigeria, to contain the coronavirus and this coming after the Chinese Government donated some medical equipment, aside from the 15 Chinese Medical experts. They are currently in the country to help in the COVID-19 crisis.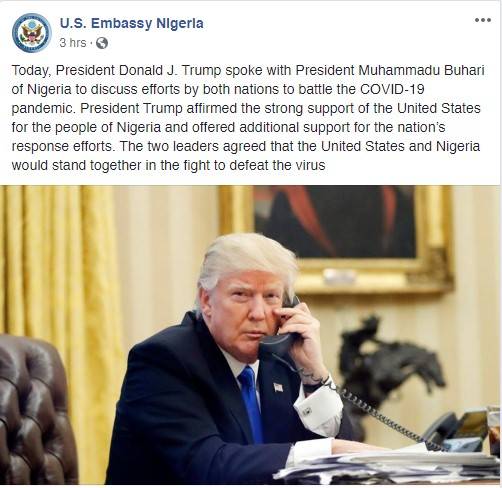 The minister said the promise of ventilators and other assistances was made by President Donald Trump of the United States while speaking with President Muhammadu Buhari in a telephone conversation on Tuesday. Alhaji Lai Mohammed said the phone conversation, which was said to be at the request of President Trump, centred on Nigeria's response to the COVID-19 pandemic. According to him, President Buhari updated President Trump on progress so far made by the country.
"The conversation centred on Nigeria's response to the COVID-19 pandemic. President Buhari used the opportunity to brief the American President on the steps that Nigeria is taking to contain the spread of the disease.
"For his part, President Trump assured that the United States stands in solidarity with Nigeria in this difficult time and promised to send ventilators to support the country in its fight against the pandemic. "President Trump also extends his best regards to the people of Nigeria," Mohammed said. As at 27 April, Nigeria has 1337 confirmed cases of COVID-19 with most cases concentrated in Lagos, the Federal Capital Territory (FCT) and Kano.
The country has recorded 40 deaths so far. The numbers notwithstanding, President Buhari has, in a national broadcast on Monday, eased the lockdown imposed on FCT, Lagos and Ogun effective 4 April. The Secretary to the Government of the Federation (SGF) and Chairman of the Presidential Task Force (PTF) on COVID-19, Boss Mustapha, said the relaxation of lockdown was to enable Nigerians gradually return to their daily lives but in a moderated manner.